A picture is worth a thousand words. Iconography is an important tool for understanding the past. It provides unique insight into not only the daily lives of our ancestors but also how they perceived the world around them.
This site is an online resource for all those interested in the history and development of the Horn. It aims to collect in one place as many pictorial representations of the instrument in order improve our understanding of the various developments in the instrument and it's playing technique.
Through submissions of the community, this site will continue to grow and evolve with ever growing galleries and more and more accurate citations.
All images on the site are understood to be within the public domain. They are presented here for the purpose of education, scholarship, and research and are not intended to be used in any commercial fashion.
Will Kimball has an excellent write up on public domain and copyright at http://kimballtrombone.com/trombone-history-timeline/
Of particular interest are the rulings declaring reproductions of public domain artworks as not having a level of originality to constitute their own copyrights.
Also relevant would be the fair use exception to copyright law which allows use of images for educational purposes (further reading here: https://libguides.bc.edu/copyright/fairuse)
About the curator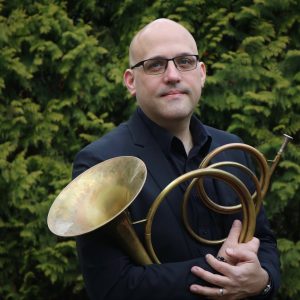 John Manganaro studied early music performance practice and natural horn with Richard Seraphinoff at Indiana University. In 2006, he won the first Associate Principal Horn position of the Orquesta del Palau de les Arts Reina Sofia in Valencia, Spain (now Orquestra de la Communitat Valenciana). After a few years, he left this orchestra in order to continue Horn studies with Prof. Michael Höltzel in Germany and in 2012, won his current position of 1/3 Horn in the Hofer Symphoniker in Hof. Alongside his symphonic orchestra duties, John routinely plays with period ensembles both in Europe and America, and researches historical performance practices and the repertoire of the 18th and early 19th centuries. He regularly returns to Indiana University as an assistant instructor alongside Richard Seraphinoff at the annual Natural Horn Workshop.